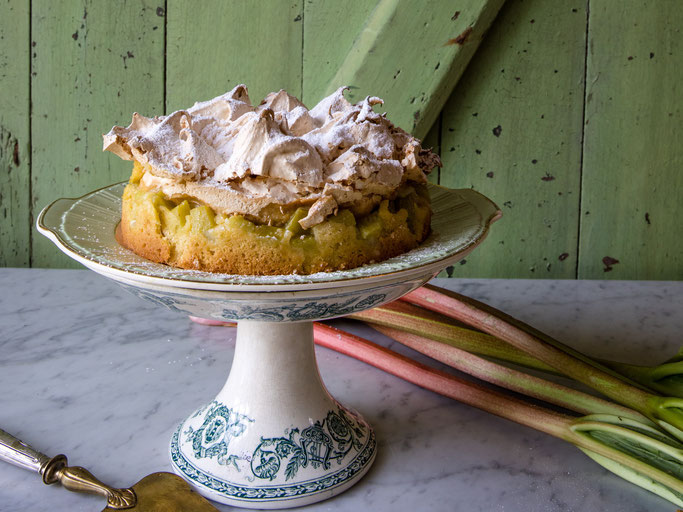 Theresa's famous rhubarb cake is quick and easy to prepare.
Enjoy its delicious and fruity taste.
---
Ingredients
:
200 g peeled rhubarb 

125 g soft butter


1 teaspoon of bourbon vanilla sugar (or the pulp of a bourbon vanilla pod) 


3 egg yolks
1/2 tsp of baking powder


150 g spelt flour (type 630) 


50 ml milk


150 g light raw cane sugar

For the meringue:


3 egg whites


150 g light raw cane sugar 



Preparation:
Preheat the oven to 170 ° convection oven. (From experience, it is essential to use convection for success!)

Butter a 20 cm baking tin and cover the bottom with baking paper.

Cut the peeled rhubarb into small pieces of 1 cm. 
For the sponge mixture, beat the soft butter, sugar and vanilla sugar to a creamy white mixture. Then slowly add the egg yolks while mixing.  
Mix the baking powder with the flour. Add it together with the milk to the dough and mix it very quickly.  
Spread the dough evenly in a 20 cm baking tin. 
Spread the rhubarb pieces on top. For the meringue, beat the egg whites until stiff, then add the sugar and beat until glossy. Cover the rhubarb with meringue and form a cloudy texture with a spoon. Bake the cake for about 30 minutes in the preheated oven until the meringue is tender brown and crisp.

For a sheet cake, double the recipe (baking time approx. 30 min).
---
Theresas berühmter Rhabarber-Baiser-Kuchen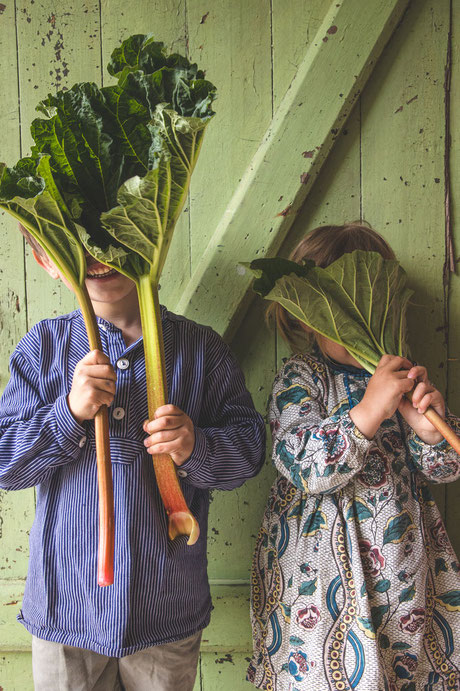 Zutaten für eine 20 er Springform:

200 g geschälter Rhabarber 

125 g weiche Butter


1 Teelöffel Bourbon-Vanillezucker (oder das Mark einer Bourbon-Vanilleschote) 


3 Eigelb
1/2 Teelöffel Backpulver


150 g Dinkelmehl (Typ 630) 


50 ml Milch


150 g heller Rohrohrzucker

Für den Baiser:


3 Eiweiß


150 g heller Rohrohrzucker 




Zubereitung:

Den Backofen auf 170 ° Umluft vorheizen. Aus Erfahrung für das Gelingen unbedingt Umluft wählen!

Eine 20 cm große Springform buttern und den Boden mit Backpapier auslegen.

Den geschälten Rhabarber in 1 cm kleine Stücke schneiden. 
Für den Rührteig die weiche Butter, den Zucker und den Vanillezucker cremig-weiß schlagen. Dann die Eigelbe langsam unter Rühren hinzugeben.  
Das Backpulver mit dem Mehl vermengen und zusammen mit der Milch schnell und kurz zu einem gleichmäßigen Teig rühren. Den Teig gleichmäßig in die Springform (20 cm) streichen und den Rhabarber darauf verteilen. 
 Für den Baiser das Eiweiß steif schlagen, dann den Zucker einrieseln lassen und zu einer glänzenden Masse weiterschlagen. Den Rhabarber mit Baiser bedecken und dabei mit einem Löffel eine wolkige Struktur formen. Den Kuchen ca. 30 Minuten im vorgeheizten Backofen auf mittlerer Schiene backen, bis das Baiser zartbraun und knusprig ist.
Für einen Blechkuchen das Rezept verdoppeln. Die Backzeit bleibt 30 Minuten.