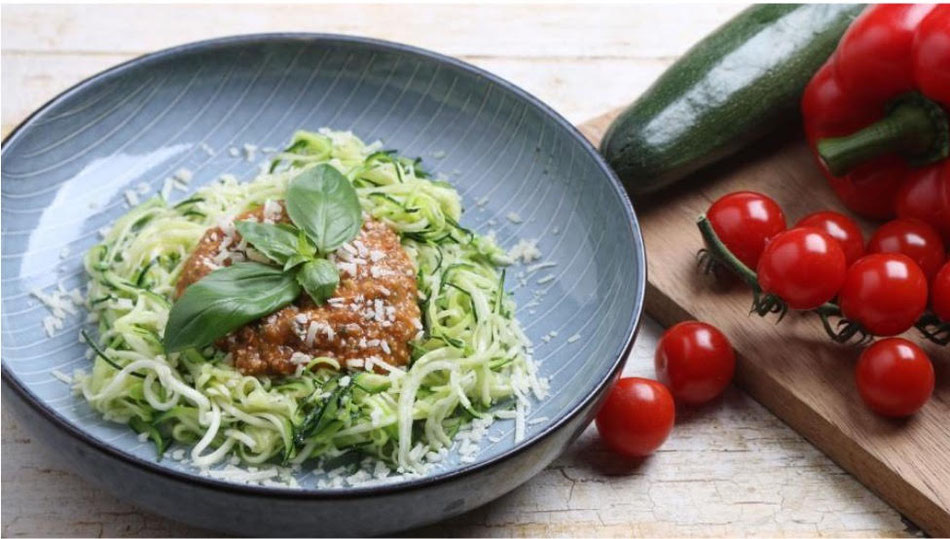 Colorful vegetables from the garden on summer zucchini spaghetti!
Ingredients:

For the pesto:
100 g cashews
2 red peppers
900 g cherry tomatoes
4 garlic cloves
1 bunch basil
100 g fresh parmesan
2 tablespoons balsamic vinegar
1 pinch of cayenne pepper
some fleur de sel
3 zucchini
someolive oil
60 g Parmesan cheese

Preparation:

Preheat the oven to 180 degrees (convection oven 160 degrees/gas oven: level 2-3).
Soak the cashews in water until the vegetables come out of the oven cooked. Wash the peppers, cut them into halves and remove the core. Place bell pepper halves, skin side down, on a baking sheet. Wash the tomatoes and place them whole on the baking sheet as well. Wrap the garlic cloves with their skins in baking paper and place them on the baking sheet as well. Cook the vegetables in the oven for 45 minutes. In the meantime, clean, wash and dry the zucchini. Cut the zucchini into fine vegetable spaghetti with a spiral cutter. Rinse basil, shake dry and pluck leaves. Set aside a few leaves for garnish. Remove the cooked garlic cloves from the baking sheet, unwrap them from the baking paper and peel them.
Drain the cashews. Coarsely grate the parmesan. Remove the tomatoes and peppers from the oven and place in a large, tall blender jug with the garlic, basil, about 2/3 of the Parmesan and balsamic and puree until fine. Season to taste with cayenne pepper and fleur de sel.
Heat some olive oil in a pan and briefly sauté the vegetable spaghetti in it. Carefully mix the pesto and the vegetable spaghetti, drizzle with a little olive oil and serve garnished with the remaining Parmesan and basil.