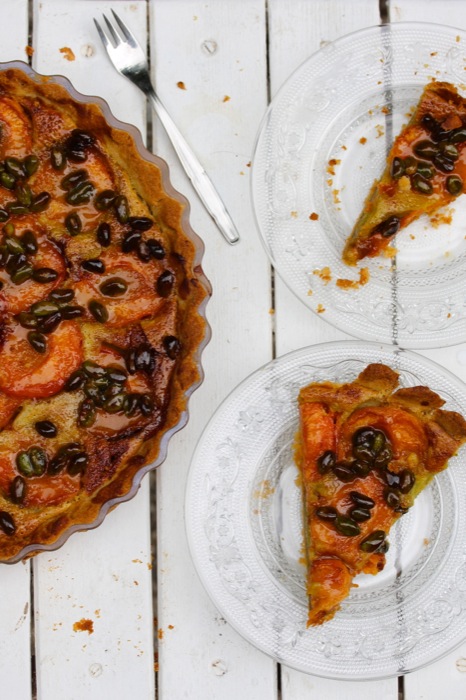 At the moment, ripe apricots with red cheeks are in abundance at the markets. I have a special fondness for the apricots from Provence. They not only taste sweet, but at the same time have a fine sour note.

Ingredients

For one tart pan (26 diameter):

For the dough:

100 g room temperature soft butter

60 g light raw cane sugar

1 pinch of salt

60 ground, peeled almonds

3 tablespoons olive oil

140 g spelt flour type 630

For the topping:

205 g room temperature soft butter

125 g sugar

125 g eggs (equivalent to about three small eggs)

120 g pistachios

65 g ground almonds

13 g spelt flour type 630

1 kg ripe, aromatic apricots

50 g light raw cane sugar

40 g honey

Preparation

For the dough, first beat the butter with the sugar and the salt until it becomes a white creamy mass. Then successively add the almonds, the olive oil and finally the flour. Form the dough into a ball and let it rest in the refrigerator for two hours, wrapped in cling film. Roll out the dough and lay it out in a greased tart pan. Prick with a fork and chill again in the freezer before baking. Preheat the oven to 180° C (convection oven). Meanwhile, for the topping, beat 125 g butter with the sugar in a food processor until white. Beat the eggs and gradually stir them in. Finely grind 60 g of pistachios with the ground almonds in a blitz chopper and add to the mixture. Finally, stir in the flour briefly and quickly. Pre-bake the short pastry in the oven for 15 minutes. Wash, halve and pit the apricots. Melt 50 g butter in a pan and lightly fry the backs of the apricots in it. Sprinkle the inside with the raw cane sugar. Spread the pistachio-almond mixture on the pre-baked shortcrust pastry. Place the apricots inside out on top of the pistachio cream and place the tart in the oven for 20 minutes. In the meantime, melt 30 g of butter with the honey in a saucepan. Add the remaining pistachios to the honey butter. Remove the tart from the oven, spread with the pistachio nuts and the honey butter and bake in the oven for another 15 minutes. Let the cake cool and enjoy.
Bon appetit and good luck!