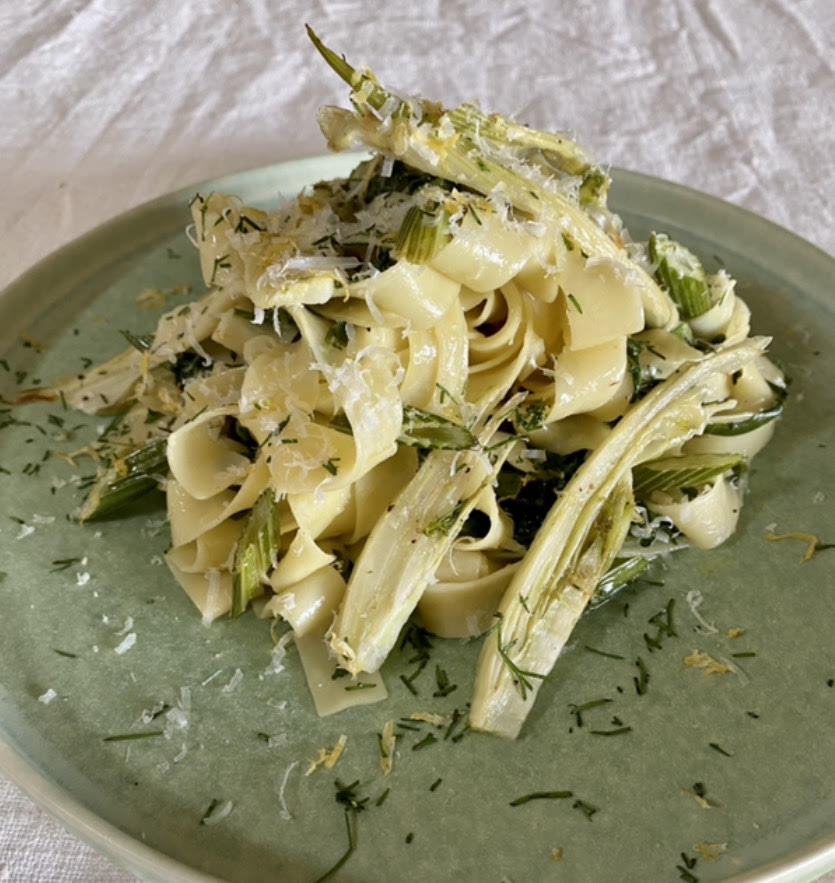 From our harvest of the week, we have conjured up summery, refreshing tagliatelle with fennel & chard. The perfect pasta recipe for a cosy summer evening!



Tagliatelle with fennel and chard

Serves 2:

250 g tagliatelle
2 shallots
1 clove of garlic
1 bay leaf
1 small fennel bulb approx. 200 g
Fleur de sel
3 tbsp olive oil
White pepper
Juice and zest of half a lemon
100 ml cream
400 g chard leaves
50 ml Noilly Prat
50 ml dry white wine


Heat the oven to 165 °C convection. Remove the green from the fennel bulb, chop finely and set aside. Cut the stalks into small pieces. Slightly cut off the end of the stalk and cut the bulb into thin slices. Place in an ovenproof dish, mix with 2 tbsp olive oil, 20 ml Noilly Prat, salt and pepper and season. Cook in the preheated oven for about 15 minutes until the fennel is lightly browned.

Place a saucepan of water to cook the pasta and bring to the boil with a good pinch of salt. Meanwhile, peel and finely dice the shallots and garlic clove. Wash the chard, cut out thick chard ribs, live the leaves on top of each other and cut into wide strips. Heat 1 tbsp olive oil in the pan, add the shallot cubes and sauté. After about 1 minute, add the garlic, bay leaf and chard leaves and sauté over a medium heat. Then deglaze with the remaining Noilly Prat and white wine and reduce over a higher heat. Cook the pasta in the boiling salted water until almost al dente. When draining the pasta, reserve about 100 ml of the pasta water. Add the cream and some of the pasta water to the chard, let it reduce a little, add the pasta and let it cook a little longer. Remove the bay leaf before serving.

Finally, season with salt, pepper, lemon zest and juice, arrange on a plate and sprinkle with shaved Parmesan cheese and fennel greens.