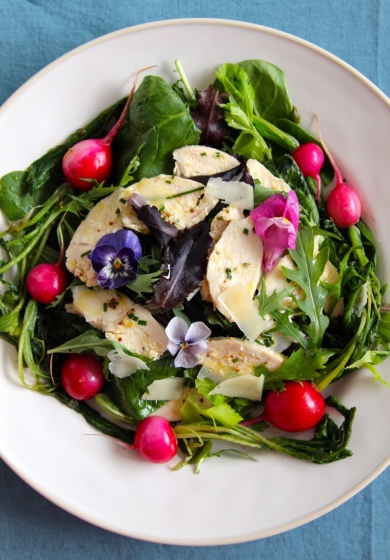 The red radishes therefore immediately caught my eye at the weekly market! They absolutely had to be in my Caesar salad!
Ingredients

Serves 4:

2 organic turkey breast fillets

1 tablespoon olive oil

Fleur de sel

2 cloves of garlic

1 heaped tsp. mustard à l'Ancienne

2 tbsp balsamic vinegar

a little sea salt

zest of 1/2 organic lemon

1 tbsp lemon juice

6 tbsp. virgin olive oil

1 tsp agave syrup (alternatively honey)

1 tbsp freshly chopped chives

200 g mixed salad (lettuce tips, young spinach leaves, rocket, young celery leaves, etc.)

1 bunch of radishes

1 tablespoon ghee (alternatively clarified butter)

freshly grated Parmesan cheese

Preparation

Preheat the oven to 180°C convection oven. Briefly rinse the turkey breast fillets, pat dry and place in an ovenproof dish. Drizzle with olive oil, sprinkle with fleur de sel and add two peeled fresh garlic cloves. Cook the meat in the oven for about 20 minutes, remove and leave to cool. For the salad dressing, whisk together the mustard, vinegar, salt, lemon zest and lemon juice until the salt has dissolved. Then add the olive oil and agave syrup and finally stir in the chive rolls. Wash the lettuce and spin dry. Wash the radishes with the leaves and pat dry. Melt some ghee in a pan and sauté the radishes in it. Arrange the salad on the plates. Cut the turkey breast into fine strips, marinate in the salad dressing and spread evenly on the salad plates with the radishes. Drizzle the remaining sauce over the salads. Decorate with Parmesan shavings.