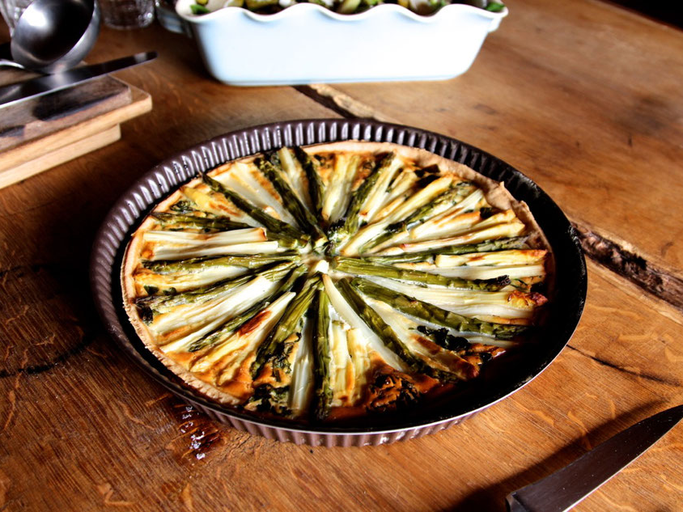 Did you know that you can bake an asparagus tart? You can find all the information you need in Theresa's recipe.
Ingredients
For the dough (for a tart tin):


250 g flour (type 550)
125 g cold butter
1 egg yolk
50 ml ice water
1 tsp salt
1 pinch freshly grated nutmeg
to grease the tin: a little butter

For the topping:


750 g white or green asparagus
150 ml cream
2 eggs
1 pinch of salt
1 pinch of freshly grated nutmeg
various spring herbs such as chives, dandelion, wild garlic or chervil
Preparation
Grease the tart tin with butter. Cut the cold butter into cubes. For the shortcrust pastry, put all the ingredients in a bowl and quickly knead into a smooth dough. Roll out the dough thinly on a floured work surface and line the tin with it. Prick the surface several times with a fork and chill. Preheat the oven to 180 degrees.
 
Peel the white asparagus, cut off only the woody ends of the green asparagus. Bring the water to the boil, add a pinch of salt and sugar. Cook the asparagus in a few minutes (depending on the thickness of the spears) until firm to the bite. Remove the asparagus and drain. Pre-bake the tart in the oven for ten minutes without topping. For the glaze, mix the eggs with the cream and spices. Pick or chop the herbs. Halve the asparagus and spread on the pre-baked tart. Sprinkle the herbs over the top, setting a few aside for decoration. Pour the glaze over the tart and bake for 30 minutes until golden brown. Finally, decorate with a few spring herbs.

Tip: The tart can also be frozen very well and is quickly warmed up for spontaneous guests.
---
 Für den Teig (für eine Tarteform):
250 g Mehl (Type 550)
125 g kalte Butter
1 Eigelb
50 ml Eiswasser
1 TL Salz
1 Prise frisch geriebene Muskatnuss
zum Einfetten der Form: etwas Butter

Für den Belag:
750 g weißer oder grüner Spargel
150 ml Sahne
2 Eier
1 Prise Salz
1 Prise frisch geriebene Muskatnuss
verschiedene Frühlingskräuter wie Schnittlauch, Löwenzahn, Bärlauch oder Kerbel

Zubereitung
Die Tarteform mit Butter einfetten. Die kalte Butter in Würfel schneiden. Für den Mürbeteig alle Zutaten in eine Schüssel geben und rasch zu einem geschmeidigen Teig verkneten. Den Teig auf einer bemehlten Arbeitsfläche dünn ausrollen, die Form damit auskleiden. Die Oberfläche mehrmals mit einer Gabel einstechen und kühl stellen. Den Backofen auf 180 Grad vorheizen.
Den weißen Spargel schälen, bei grünem Spargel nur die holzigen Enden abschneiden. Wasser zum Kochen bringen, eine Prise Salz und Zucker dazugeben. Den Spargel in wenigen Minuten (je nach Dicke der Stangen) bissfest garen. Den Spargel herausnehmen und abtropfen lassen. Die Tarte zehn Minuten ohne Belag im Ofen vorbacken. Für den Guss die Eier mit der Sahne und den Gewürzen verrühren. Die Kräuter klein zupfen oder schneiden. Den Spargel halbieren und auf der vorgebackenen Tarte verteilen. Die Kräuter darüberstreuen, ein paar zum Dekorieren beiseitelegen. Den Guss auf die Tarte gießen, anschließend 30 Minuten goldbraun backen. Zum Schluss noch mit ein paar Frühlingskräutern dekorieren.

Tipp: Die Tarte lässt sich auch sehr gut einfrieren und ist für spontane Gäste schnell warm gemacht.